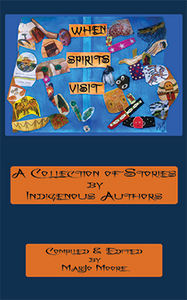 Medicine Man Crafts
When Spirits Visit: A Collection of Stories by Indigenous Authors
Regular price
$15.99
$0.00
Compiled and edited by noted author MariJo Moore , WHEN SPIRITS VISIT contains stories centered on spiritual visitation – animal, bird, and people. Some are fiction, some non-fiction, and some faction. Discernment is left to each reader. 
Writers included are: Susan Deer Cloud, Phyllis A. Fast, Gabriel Horn, Amy Krout-Horn, Evan Pritchard, Jim Stevens, MariJo Moore, Sean Milanovich, Clifford Trafzer, Dawn Karima Pettigrew, Lois Red Elk, Willliam Yellow Robe, Jr, Dean Hutchins.and Denise Low. All respected published authors in the Native American realm of literature. 
This book is unique in its presentation of the fact that "...many of us do believe in the mysteries of the universe, even if they cannot be "proved" mathematically or scientifically. There are spirit beings who help us, who guide us, and there are spirit beings who can confuse us as well. Spirit beings are all around us at any given moment. These spirits have their work to do in helping us, so they need us as much as we need them." 
When Spirits Visit
A Collection of Stories by Indigenous Authors
8.5 x 5.5/ 134 pages
"This is a unique book -- a different kind of storytelling -- where dreams, imagination, and spirit visitations blend, causing the boundaries of mundane perception to blur... and truths to come into focus. Thus, the stories get the reader to slow down, ponder, and be reminded that 'other-worldly' experiences are normal, often challenging, yet ultimately benevolent. Each story unfolds at least one gem to ponder: "a project spirit", "power dreams", "water is medicine", voice guided healings, portals, ancestors... One comforting message from the overall book: you're not neurotic, you're tuning-in to spirit communications."
~Mankh (Walter E. Harris III), author of 
Musings With The Golden Sparrow, 
a book of genre-bending poetic-nonfiction, and other books.
www.allbook-books.com
"An exceptional anthology of some of the best and most profound thinkers in Indian Country. (Some I do know personally.) This book is exceptional in subtle ways a non-Native reader may not "get" but read it anyway. Read it with an open heart and mind. Read it with innocence. You may not believe what you read but read it anyway. These writers are offering a gift. Insight into their dreams, their own spirit, a legacy of experience. I was moved to tears and will reread these Indigenous writers. It's a transforming book. Precious. It's brilliant."
~Trace Laura Hentz, author/editor of STOLEN GENERATIONS
"If I had the power to give an award for the best anthology of 2016, I would give When Spirits Visit, the Gold Medal! You got to dig this book. I mean, I can't imagine being Indigenous and not. And, if you don't think of yourself as Indigenous, digging this book, may cause you to give that some deeper introspection. These are stories to savor. I suppose you could gobble them up all at once, but I choose the savoring of one at a time. I like to feel the immediate response in my body-mind, then allow my spirit-mind to reflect, and that's where the relishing begins. Man, I dig this book! I know that after I've read each story, I will want to return. Thank you, Indigenous writers of the first degree! Thank you, MariJo Moore, for another awesome contribution of Indigenous thought."
~Gabriel Horn
"The words and collage images flow together and enhance the stories, which are riveting and transportive."
~Suzanne Z. Murphy, NM.

"I'm reading one story each night. Lovely."
~Denise Low-Weso, KS

"When Spirits Visit, edited by MariJo Moore, is a collection of stories by indigenous writers that comes at a time in which we see so many human beings hungering for a world in which the spirits are evident again, where once more we are open to dreams, deep guidance, balance and hope. I am honored to be a part of this gathering of visionaries and word warriors who have never turned their backs on that quieter world which greedy non-dreamers have brutally suppressed and tried to exterminate completely for many centuries. This book is for all people who remain brave enough to hold to the Beauty Way in life, and for our sisters and brothers who feel they are "missing something" but can't sort out their confusion and emptiness. When Spirits Visit is a journey home at long last."
~Susan Deer Cloud of "Panther Land"
"I love MariJo Moore's anthologies for they bring together an encompassing cultural idea. This latest book, When Spirits Visit, collects the regional awareness of a spiritual life. The many thoughts upon Turtle Island of a relationship with the earth are beautifully represented in this book."
~Jim Stevens, WS
---
Share this Product
---
More from this collection